Custom Furniture For Your Home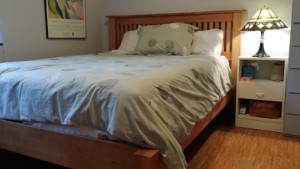 We blend the use of machinery, power tools and hand tools to produce the best custom furniture you can buy in Charlottesville, and for a price you can afford. Each piece of furniture is handmade with care from wood that's hand-selected straight from the mill.
All of our work features advanced joinery and techniques that reveal the secrets of the trees, resulting in an appeal that you simply can't resist putting your hands on! Our specialty is contemporary wood furniture and covers a broad range of styles to fit a variety of tastes.
Our woodworking shop is fully equipped to produce a variety of different custom furniture styles to meet your taste. Here's a partial list of the styles of furniture we work in with some examples built right here in-house.
Some of our favorites include:
Shaker Furniture
The classic wood choice used in this style is quarter sawn oak, characterized by the beautiful radiant rays. Shaker furniture is simple and clean in design and built very solid to last generations.
When the Shakers designed their furniture they had utility and function in mind rather than ornamental appeal. Designed and built using solid construction methods such as mortise and tenon joinery.
Mission Furniture
Also often using oak by design, mission furniture is custom furniture characterized by flat panels and clean lines. Closely associated with arts and crafts furniture and craftsman furniture, mission furniture dates back to the late 19th century and was popularized by Joseph P. McHugh, a New York furniture maker who was responsible for a large part of the evolution of the style.
Live Edge / Rustic Furniture
The wandering edges of this style are in fact the natural edges of the tree, just as it was cut at the mill. Live edge furniture retains it's natural edges and incorporates elements of nature into your space.
Also called rustic furniture, our live edge furniture is usually refined to really show off the innate beauty of its natural form, that is, in a way to cause the grain of the wood to "pop" as if it were three dimensional.
Wine Barrel Furniture
Constructed from used wine barrels sourced from wine country in central Virginia, this ultra-modern style is a crowd pleaser for the wine enthusiast. Often split in half to make planters for the yard, we think we can do something better with them, that is to add life to your party! Wine barrel furniture is nothing short of unique and sure to impress.
Euro Furniture
The epitome of modern as we know it, euro furniture is making it into our homes quite rapidly these days. Beyond simple, this style often makes use of the space around the piece, much like the spaces in a well-orchestrated song. Clean lines brought together in the right intent form this classy style known as euro furniture.
Mid Century Modern Furniture
Characterized by the contrasting smooth flowing rounded lines of the seating and the boxy lines of the cabinetry, mid-century modern furniture is another modern style of furniture making its reappearance in our homes today. This style often makes use of oil and other natural finishes to highlight the natural beauty of the wood. Classically defined as furniture from the 1950's, the mid-century modern style actually spans from about 1933-1965.
As the premier Charlottesville woodworking company, it is important that you know we do more than just custom cabinets – although we can masterfully execute that for you, as well. Contact us for the best in custom furniture that will become family heirlooms, passed down through the generations.