Cloud Cabin Arts Process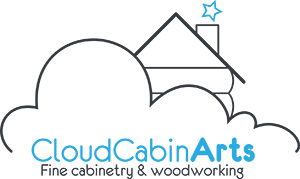 Our Process
You're considering custom woodworking for your home or office. Maybe built-in bookcases or a dining table destined to become an heirloom. Your process has begun. What now?
Taking that next step should be the biggest one; finding the right craftsman. Because the right one understands professionalism is just as important as talent, and will make the process as smooth as a hand-rubbed finish. They will be locally-based and offer a website with past project photos and reviews.
He or she may be an expert artisan, but is also running a business. Offering the highest quality means maximizing the time spent on design and build. Their time is valuable, and so is yours.
At Cloud Cabin Arts, project success is in a beautiful result and a client who is not only thrilled with the work, but the process, with minimal fuss and muss. That demands efficiency and clear expectations from the very beginning.
Here Is What To Expect
Our process starts with a conversation, usually by phone or email. This is the discovery phase, where we talk about what you need and want and I get my head in the project. Here, we discuss basics such as material type, finish type, general style and layout, timeline and budget. Plan on providing at least a concept, close measurements and photos of the space.


The proposal. This is a working document that will make it crystal clear what your options are and what each costs. These can be options we discussed, as well as some I've come up with; typically, a range of materials that can be used. For instance, if we're doing cabinets, plywood or MDF can be an economical alternative for frames. Here, we can refine or modify the concept as necessary to meet your needs.
A detailed cost estimate is one of the top things to expect from a truly professional woodworker. It reflects the most important traits; experience, trustworthiness, flexibility and the ability to plan efficiently and minimize costs.
It should absolutely allow you to know, to the penny, what the project will cost.
Once we present a proposal that is acceptable and we get your project on our schedule with a 50-percent deposit, a site visit is the next step, if the project requires it. This is where I take precise measurements and, just as importantly, dive deeper into the design. What are the goals and motivations? What about style? How will your family use whatever the project is? This can take as little as 10 to 20 minutes, yet is vital. For projects not requiring a site visit, this step is typically done via phone and email, though you are welcome to stop by for an in-shop discussion as well. The result of these conversations is to be as close to a complete design as possible.
You may know exactly what you want the project to look like, but we can still discuss options for materials, trim we may need to match, coordination with other contractors, and that sort of thing.
Next would be the design and planning phase. This step is where we confirm the details we've discussed to-date through the use of our professional drawings, providing both you and our fabrication team with a detailed and unified idea of the project.
The design and drawings are offered in a digital format with three-dimensional views so every detail can be scrutinized and changed as desired.
The build. Once plans are finalized, we are ready to begin building in our shop. Expect most projects to be completed in four to eight weeks from this point.


Fulfillment- installation or delivery. If you are envisioning a messy disruption of your life, you'll be surprised to learn that most of the work is done by the time we arrive at your door. Remember, custom means every component is cut, assembled and finished to exact specifications. With precise planning, we can complete most installations with minimal time and cutting on site. We cover floors and furniture and take great care to treat your home with respect, leaving our work area pristine and your home's newest feature ready to be enjoyed. We'll even be careful not to let the cat slip out. For projects not requiring installation, white-glove delivery service is available for a fee.


Warranty. Our focus is on a total user experience, including a guarantee on materials and workmanship.
I find that even those who think they don't, really do know what they want. The answer is already in their home and their lifestyle, and what they tell me. When a client appreciates having that conversation, I know I've found someone who understands the beauty and value of custom woodworking. If you are ready to discuss your project, I would look forward to doing so today!