Are You Looking For a Charlottesville Custom Cabinet & Woodworking Company?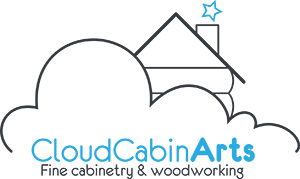 When it comes to finding a professional custom cabinet company in Charlottesville, will you know who to contact? In fact, for any of the services that you may need from a woodworking company, it is vital that you pick the right one.
Locals here have come to know that Cloud Cabin Arts is the name to trust for handcrafted excellence. When it comes to elements of your Charlottesville home, like custom cabinets, you can count on us to get the job done.
Custom Cabinets & Custom Furniture
If you are considering custom cabinets for your Charlottesville home, you should know about some of the benefits:
They will fit your kitchen precisely. Opting for pre-fabricated modular units is often like trying to fit a square peg into a round hole. Custom cabinets not only look the way that you want, they make the best use of the size and layout of your kitchen.
This allows you to select the details that go into your cabinets including wood choice, and finish or stain. Even the hardware will be up to you. This is the perfect way to make your house truly feel like your home.
It adds to the property value. Every home has to have cabinets, however, adding customer woodworking definitely increases the overall property value. You can think of it as a wise investment.
Custom Wood Working Projects in Charlottesville, VA
Before we can get started with your Charlottesville custom cabinets project, it starts with a consultation. This enables our experts to learn more about the look that you want to create with your new cabinetry.