Cabinet Refacing Services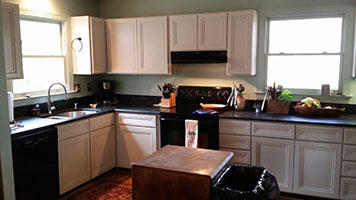 If you're looking to update the look of your kitchen, bathroom, den or another area of your home or office without wanting to spend the time or money for a complete overhaul, cabinet refacing might be right for you. This is a great way to update the cabinets in your Charlottesville home at a fraction of the cost.
Endless style choices are available and can be made to fit your space and taste more appropriately. Cabinet refacing is a simple and unobtrusive process that won't leave your kitchen out of commission for days or even weeks.
We'll simply measure your existing cabinet doors, or if currently without doors, the cabinet openings. When the building process is complete we'll return for installation- and you'll be cooking the same night!
Advantages of Cabinet Refacing
If you're looking for a Charlottesville custom cabinet company to address your need for cabinet refacing it means that you are ready to make a change. But do you know about the benefits that you can expect?
As more and more homeowners concern themselves with greener practices, this is a good way to work towards a more Eco-friendly household. Replacing your cabinets when they are still in otherwise good condition, is considered wasteful.
Did you know that brand new kitchen cabinets can consume up to 40% of your kitchen remodeling budget? Then you will be glad to know that refacing costs about 50% less so you can save money on your residential renovations.
You have a wide variety of looks and finishes. You don't have to settle and you don't have to feel limited in your choices.
Make a wise choice and contact us now for your cabinet refacing.