Cabinet Refacing Services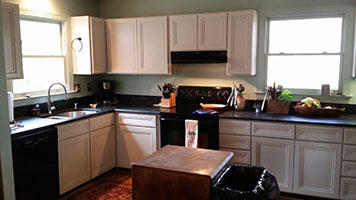 If you're looking to update the look of your kitchen, bathroom, den or another area of your home or office without wanting to spend the time or money for a complete overhaul, cabinet refacing might be right for you. This is a great way to update the cabinets in your Charlottesville home at a fraction of the cost. Endless style choices are available and can be made to fit your space and taste more appropriately.
What is Cabinet Refacing?
Cabinet refacing is a simple and unobtrusive process that won't leave your kitchen out of commission for days or even weeks. The process involves replacing the cabinet doors and drawer fronts, while leaving the existing cabinet box in place. We'll simply measure your existing cabinet doors, or if currently without doors, the cabinet openings. The faces are custom built at our shop in Central Virginia, keeping the messy work out of your home. When the building process is complete we'll return for installation- and you'll be cooking the same night!
Advantages of Cabinet Refacing
Cabinet refacing is a simple and economical solution that provides a brand new look at a fraction of the cost of a complete replacement. With dozens of choices available, from flat European style slab doors to arch-top raised panel doors, craftsman doors to custom carved doors, you will be sure to find a style that looks great in your home and fits your style and budget. They are custom made for your existing cabinets to ensure an exact fit. With this eco-friendly option you'll have money left over for a few upgrades as well!
Is Cabinet Refacing Right For Me?
Since cabinet doors and drawer fronts are high wear items, they tend to show their age sooner. Not only do the hinges start wobbling, drawers start binding and paint starts peeling, the overall appearance begins to look dated. The cabinet doors have a large impact on the look and feel of a kitchen. If the cabinet boxes are still in good condition and the layout fits your needs, cabinet refacing is an excellent option. Give us a call today and we'll help you determine if this option is right for you.
I have other cabinet needs I would like to address, could you help me with this, too?
It is common at the time of cabinet refacing to address issues and make other upgrades. Frequently requested services include cabinet painting, hinge and drawer slide replacement, modification of existing cabinets and addition of new cabinets. We draw on a wealth of experience to provide a wide variety of services and can help you with most any cabinet request you may have.
Recent Cabinet Refacing Articles