Custom Woodworking Services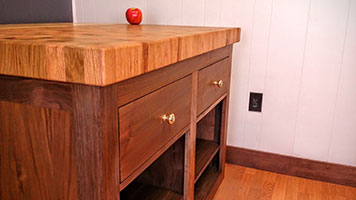 Searching for custom woodworking for your Charlottesville home? Well, then you have come to the right place because Cloud Cabin Arts is the name to trust in for this type of work.
We are the premier Charlottesville woodworking company and our workmanship is unsurpassed. In business since 2013, we have managed to build an impeccable reputation in a relatively short amount of time.
Quality Matters
There are a number of reasons we are able to provide the best results for the woodworking services we offer.
First of all, it's a passion and not just a profession. The work we do is something that comes from the heart and that is reflected in all the work we do.
We are dedicated to ensuring that each of our customers is 100% satisfied with the final results they get.
The woodworking we do spans a variety including custom cabinets. That means we can provide you with work that is both beautiful and functional.
The bottom line is that we genuinely care about both our customers and the work we do. This is a surefire way to produce quality work.
There is just something about adding these personalized touches to your home; creating pieces that will last and that can become family heirlooms, for generations to come. Quality should always matter when it comes to your home and the details that make it more than just a house.
If you would like to get the best in quality woodworking for your local home, contact us now. Let us show you what a difference it makes to have true creative talent combined with skilled craftsmanship, finishing the details of your household.