Custom Woodworking Services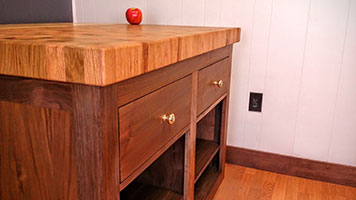 At Cloud Cabin Arts we are well equipped to meet all your custom woodworking needs. We are the premier Charlottesville woodworking company and our workmanship is unsurpassed. If your project isn't classified as cabinets or furniture, we would simply call it woodwork or architectural woodwork. These terms would cover most any other wood product that would go in or on your home.
Our shop is outfit with a variety of tools, from the old school traditional hand planes to modern cnc technology. These tools allow us to meet most any project requirements accurately and efficiently, and we bring a wide variety of experience to the table to ensure your project is done right the first time, and on time.
Custom Wood Countertops
Wood offers a warmer and lighter feel to your home, and many admirers of woodwork realize this. These are often the same people who dislike the other options such as granite. If this describes you, you may be in the market for a custom wood countertop. We offer many options for wood and finish type to get the exact color, tone and texture you like. Not limited to traditional options, we also offer an incredible selection of live edge pieces for a truly unique look.
Custom Wood Doors
Your front entry doors are the gateway to your home and one of the first detailed looks your guests see of your home. This is a prime opportunity to add detail to the outside of your home and a taste of what is to come when stepping inside, so it makes sense to invest in quality doors. We can help you customize your entryway for a look you are trying to achieve.
Whether for your entryway or interior, we offer custom wood doors in nearly any style, from the timeless and traditional Craftsman style to a more exotic Mediteranean style, barn door style to arch top, we have a way to meet your needs. With heavy-duty mortise and tenon joinery, you can be sure your investment will last for years to come. We can help you design and build a custom door today.
Architectural Woodworking
Architectural woodworking is a term to describe the various woodworking parts and pieces that are affixed to a home. This can be anything like custom cornice/frieze blocks, corbels and mouldings. These items are the spice of your home and add detail and texture. Often on historic homes the woodwork needs to be replicated, and we offer historical reproduction woodworking as well.
Above is a sample list of common items for your home but by no means is complete. If you need help with a custom woodworking project in Virginia, give us a call today and we'll help you find the best solution. Let us show you what a difference it makes to have true creative talent combined with skilled craftsmanship, finishing the details of your household.