Built-ins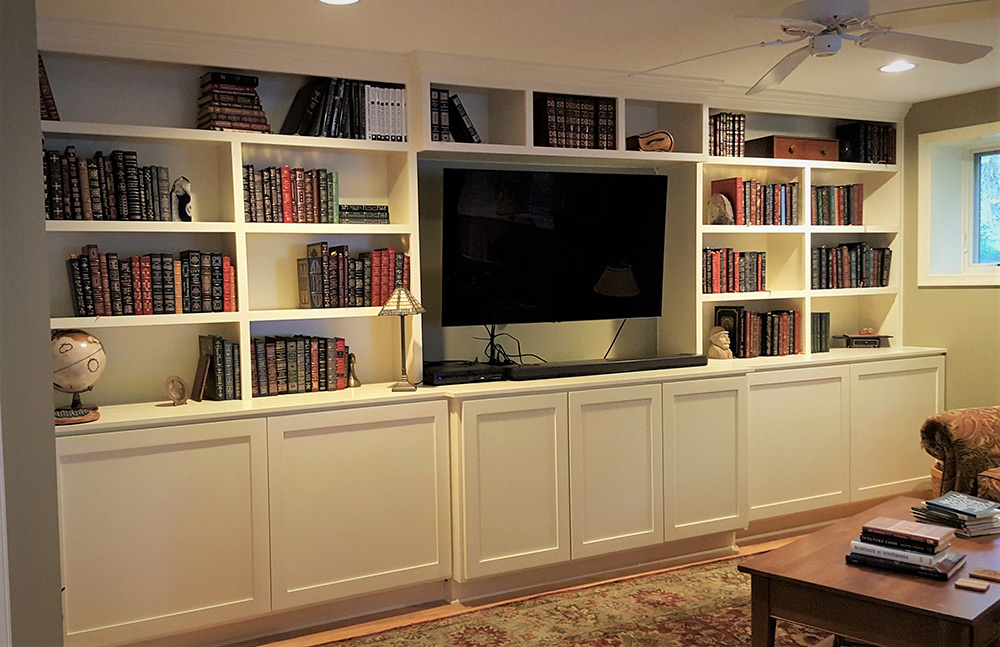 What's that you say? Never heard of them? Could be your lack of age is showing. Or maybe you just haven't noticed them for what they are.
At one time, bookcases, corner hutches and hidden storage – think Murphy beds and ironing board cupboards– were commonplace, considered luxuries in high-end houses and a way to make small ones more livable.
And they were gold in real estate listings.
A Trend That Really Isn't
With today's trends toward open space living, clever and attractive installations can be a subtle approach to organization, flexibility and added property value. Shelves set into a wall, or double-sided to semi-divide a space, become the frame for photos and prized possessions. Wood can be stained or painted to bring warmth or a swath of color to a room, or "painted out," matching the wall or trim color.
That's the thing with built-ins. They can bring so much to a space, without screaming, look at me!
If you're wondering about resale value, local Realtors say there is no reason to avoid this kind of permanent feature. They remain just as sought after as crown molding and hardwood floors. It just has to be done well. Designed and built by a professional, it definitely takes a home up a notch or more.
At Nest Realty in Charlottesville, Associate Broker Bobby Montgomery said uniqueness is high on the priority list for most buyers.
"Built-ins are a great way to bring that to a home. No matter what they have to spend, people want something special. If they walk into an empty house, built-in bookcases or shelves, just like a fireplace, set it apart from the rest and help them imagine living there."
Cabinets can be built in almost anywhere – from kitchens to offices, walk-in clothes closets and garages - designed to hide away life's necessities in an easily accessible way, or spotlight the pretty stuff behind glass fronts.
A butler's pantry is a great example of functionality combined with elegance. They remain indispensable in grand homes. In more modest settings, the approach can be as simple as a wine cooler and stemware storage in a hallway, or an extra closet adapted to store small appliances and the good china so that you might actually use it on occasion.
Pantries, in general, are making a comeback, because they just make sense.
"The biggest trend, other than the obvious open floor plan, are large, walk-in pantries," Montgomery said. "They're spaces for freezers or second refrigerators, coffee makings and things people use every day; almost like second kitchens."
Taking Style in Hand
To understand at least one aspect of the evolution of built-ins, consider craftsman style architecture. Its roots are in late-19th century Industrial Revolution in Great Britain, when demand for housing sparked uninspired, cookie-cutter construction.
Enter the Arts and Crafts movement as a means to disrupt the trend. Affordable bungalows borrowed from the bespoke woodworking of showy Victorians and made it more functional; nooks, window seats and clever storage – lots of homey wood and each home one-of-a-kind.
The 20th century and Craftsman architecture arrived at about the same time in the U.S., where the enterprising Gustav Stickley started a magazine dedicated to the charismatic style and sold blueprints to DIYers.
Craftsman and contemporary remain popular styles, Montgomery said, because they stand out from the crowd in so many unique and subtle ways, without feeling dated.
So why don't built-ins appear in real estate listing these days?
Simple. Online listings don't offer it as a search parameter. Click through the photos, however, and you'll find them. Lots of them.
In Charlottesville, an ultra-modern, bespoke home features two right inside the front door; a lighted wall niche and a fish tank. There are shelves throughout the home, including along a narrow balcony, and clever under-stair storage. There is even a sofa whose cushions sit on a frame that doubles as the legs of a fold down bed in the wall behind it.
In contrast, a small, non-descript home makes up for its lack of curb appeal with a stunning interior remodeled to add storage and bring flow and light to its small rooms. Built-ins are everywhere;

A coat rack and shelves maximize space between the back door and refrigerator.
A cabinet under the kitchen island hides a portable washer.
Open shelves replace cabinets between the kitchen and dining area.
The doorway into the living room is flanked on one side and above with pass-through book shelves.
In a tiny bedroom, a low cabinet attached to a wall seems to take up no space yet offers lots of storage and a narrow top that can double as seating.
On the back terrace, a pergola is outfitted with a swinging bench and a bar table.
Getting any ideas yet?
Simply put, built-ins, done well, can make a home look finished and truly custom-designed.